I won't pretend like everyone didn't know this was occurring next week, but is a little drama too much to ask? Google learned a few years ago that "leaking" a product boosts enthusiasm, and here we are, confronting a tweet that leaves nothing to the imagination. The Pixel Foldable unfolds gently in the short video.
Google is using Star Wars Day to drum up its upcoming Shoreline I/O, but it's pumping the pump a week earlier. The corporation acted after several leaks and speculations. Pixel Fold's official page lets you sign up for updates. However, pricing and release date are unconfirmed.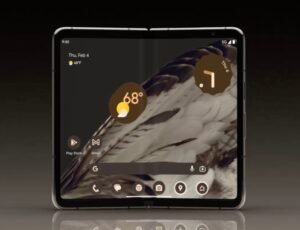 As seen above, earlier leaks were accurate. The form factor is more Samsung Galaxy Z Fold than Samsung Galaxy Z Flip—more book than a clamshell. However, the dimensions are closer to Oppo's foldable or Microsoft's Surface Duo.
Google has been preparing to enter space for years. Samsung and the business have been developing a foldable Android version. This year's Mobile World Congress showed that foldable are no longer a novelty. There is a list of big device makers without a foldable shrink monthly, and they are likely working on one.
The Pixel design language includes the camera bar with several rare-facing lenses. Unfortunately, there's no apparent internal camera. Therefore the manufacturer is either putting one under display (unlikely) or hiding it in the large bezel.
The video shows a dark clock face, making it hard to tell how near the front-facing screen is to edge-to-edge. Android's Material UI is seen in the inner screen's crease. The metal edge has power and volume controls and speaker grilles on top. We can't see the bottom, but it's USB-C. For a foldable, the device is also thin.
Google India announced the affordable 7A's May 11 release. Last year's Pixel Tablet announcement will likely be expanded upon. Will I/O surprise? Maybe. Though the Pixel line is becoming less likely. The event begins at 10 AM PT on May 10.