Voice powered speakers are getting popular these days. Smart displays, like Amazon's Alexa and Google Assistant, are going to follow suit. The Lenovo Smart Clock is the latest to join the club. However, because of the added expense of display and the busier controls such as voice and touch controls, smart screen devices haven't had the kind of impact.
The Lenovo Smart Clock deserves to be in your bed, on the bedside table. Moreover, due to its awesome design, it truly deserves this spot.
Price:
The Lenovo Smart Clock is available in the market at $79.99. However, the price will be cut by 25 to 30% in different sales. However, even at this price, it is cheaper than Amazon Echo Spot or Google Home Hub. Moreover, its price is the same as the Amazon Echo Show 5. All of these would have been excellent choices if Lenovo hadn't released its smart clock.
If you are interested in more smart clocks, you should check out the Glance Clock here.
Design:
The Lenovo Smart Clock smartens up your traditional clock. It's an excellent way to get a Google Assistant smart home speaker.
You can put it anywhere in the house; however, you should ideally place the AI-powered speaker on a nightstand. It has a 4-inch screen that shows time with various clock faces. Moreover, its screen resolution is 400 x 800 pixels. It is designed to be present next to your bed, so you will be quite close to it while using it. It is also quite suitable for the bedroom due to its discreet nature.
There isn't any in-built camera, and that's a feature too. Lenovo wants you to feel comfortable in the intimate rooms of your house. However, if Lenovo Smart Clock had a camera and the clock would have given the user a choice to turn the camera on or off, it would have been better.
The smart clock has a wedge-like shape with gray fabric mesh. There is a microphone mute switch on the back, along with a USB and a power port. It also contains 6W speakers. These aren't that loud but serve their purpose.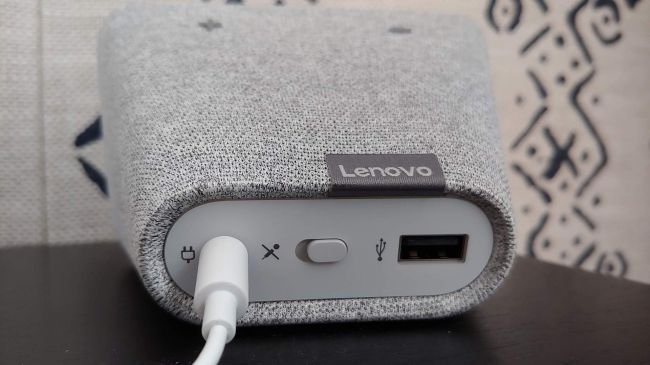 Features:
Although it looks like an ordinary alarm clock, it has many smart features. It is capable of controlling your smart home, like any smart screen device in the market.
If you know about Google Assistant, you would know what to do here. When you set up the Clock with the Google Home mobile app, you can command it to do a variety of things. Whatever you want the Smart clock to do, say "OK Google" and say whatever you want it to do. With this option, you can set alarms, timers, ask questions, make requests, etc.
It is one of the first devices which uses Google's smart helper to get the advantage of the new features of the platform. For example, you can not only tap the Lenovo Smart Clock to stop the alarm, but you can also say "stop," and the alarm will stop.
There is also an amazing 'Sunrise Alarm' feature. This raises the brightness of the screen slowly over 30 minutes leading to the alarm going off. This helps you to wake up more naturally.
Performance:
The Lenovo Smart Clock works excellent. Its microphone is quite responsive, and the Google Assistant successfully answers all your major queries.
The Google assistant is a great smart helper. Moreover, like other alarm clocks, the Lenovo Smart Clock is quite reliable. However, you might find its features somewhat complicated.
The smart clock features a tweaked interface in comparison to other Google-powered devices, such as the Home Hub. However, there is a small Google Assistant logo in the background. It's a shame because there is more room on display to provide some visual feedback. This may be a deal-breaker for some people. However, it isn't that expensive, and it does offer all these features.
Verdict:
The Lenovo Smart Clock is an amazing smart clock with a compact design and great smart home features. However, its lack of a camera may be disappointing. Moreover, people who aren't tech-savvy might feel it quite complicated. Still, if you want an alarm clock that operates your smart home, you should buy the Lenovo Smart Clock.