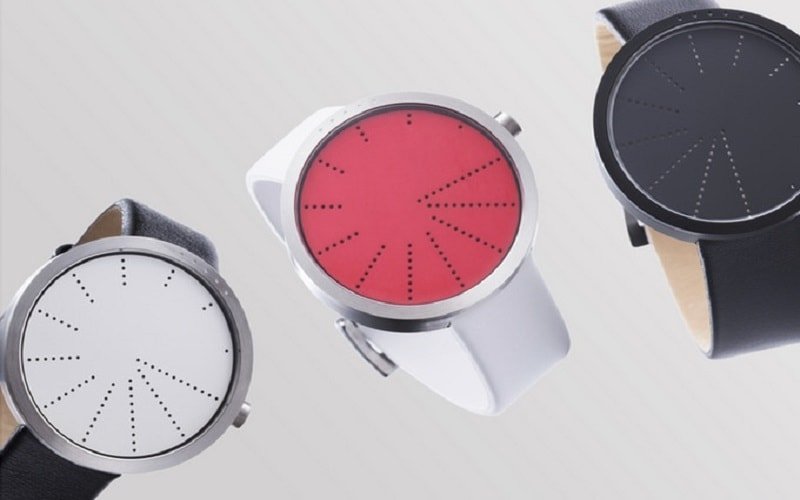 Last year, design team Anicorn Watches launched on a journey they dubbed "The Trio Of Time". On this journey, they visited three different cities around the globe to experience how different individuals around the world perceived, used, and experienced the flow of time.
Now, Anicorn have returned, and are debuting a watch series called Order. These unique watches are based on the Swiss design team's experiences in New York City.
This project may have began on Kickstarter, but it has already been successfully funded – surprisingly quickly, in fact.
The watches feature a unique interface that certainly isn't digital, but it certainly isn't analog, either. They feature a unique series of dots and one central rotating face to convey the current time in a way that is most important and quickest to understand for someone who lives in New York.
The watch designed around New York is designed around New Yorkers as well. For this reason, it is very difficult to tell the exact time with this watch. Is it 12:33 or 12:31? Good question; This watch won't really tell you. Because, honestly, if you're used to the New Yorker lifestyle, the Swiss designers don't really expect you to care.
The watch is all about telling time in 15-minute intervals of every hour. A series of dots on the main face rotate across four smaller dots on the outer face.  When a line of three dots on the inner face lines up with the third dot on the outer face, you'll know it's 3:45 – the inner dots tell you the hour, and the outer dots tell you how many 15 minute intervals have passed in that hour. This makes it easier for the wearer to start seeing time in blocks, and makes it simple to understand how much time one has before their appointment at 4:15, their dinner date at 6:30, and how much time before their work is due at 10:00. As to whether the hours shown are in the AM or PM,  the Order watch hopes you can figure that out on your own.
The products come in a variety of styles and colors, made to fit even the smallest or largest wrists. From simplified black and white designs that match the item's minimalist nature to bright red decor that lets it stand out among traditional wrist-ware, any who are interested are sure to find a color option that suits their style.
Watches start at $165 each, or early birds can choose to save some cash with the $153 early bird edition.
Featured Image Via the Official Order Watch Kickstarter Page