Twitter disclosed its new API prices on Wednesday after weeks of delay. The three tiers are a basic $100 per month level, a free level for content publishing bots, and an expensive enterprise level. In addition, the business says every subscription level receives free Advertising API access.
Twitter will terminate Standard (for v1.1), Essential and Elevated (for v2), and Premium over the next 30 days.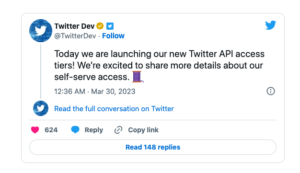 In February, Twitter stated it would terminate free API access in days. After criticism, Elon Musk announced a free tier for "good content" bots. Eventually, it indicated the base tier would cost $100 per month without specifying access. The corporation postponed the debut by "few more days" on February 13. The corporation released API information 45 days later.
The new API feels like a ripoff. The free tier includes Login with Twitter and 1,500 post requests per month. The base tier—for "hobbyists or students"—provides 50,000 post requests and 10,000 read requests per app each month. Developers who want additional data must apply for $42,000-a-month enterprise access.
Twitter gave Essential and Elevated numerous access tiers to 500,000 to 2 million tweets per month in 2020 with the v2 launch. As a result, app creators in that category will now need the enterprise plan.
Last month, Twitter closed its free API access, which TechCrunch claimed alarmed researchers and academics that it would hurt student projects and the platform's data-driven transparency.
Twitter's latest announcement says it's "working at new methods" to assist academics, but it doesn't provide any alternatives. The business said researchers might subscribe to free, basic, and enterprise tiers as they establish academic use tier. However, academics may find the free and basic levels useless and the enterprise tier too expensive for low-budget projects.
Twitter has alienated developers for months. Twitter Toolbox for app discovery and numerous other developer-related initiatives were discontinued last year. In addition, the corporation abruptly banned third-party clients in January. Subsequently, it blocked other Twitter applications.