On Thursday, Apple expanded its operations into what is quickly becoming an important international market for the iPhone maker by opening an online Apple Store in Vietnam.
People in the South Asian country can now order Apple products online and have them shipped anywhere in the country. In addition, the Apple Watch Studio and other customization tools will be available through an online store, and customers can speak with specialists to help them make purchases.
Customers can also add text, numbers, and emojis on their iPad, AirTag, AirPods, and Apple Pencil. In addition to the trade-in scheme, a local Vietnamese digital wallet called MoMo will now offer financing for various products for up to 24 months.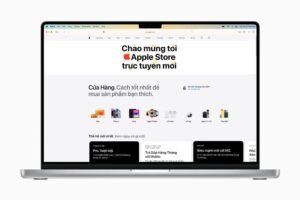 Deirdre O'Brien, Apple's senior vice president of Retail, has expressed the company's excitement about opening an online Apple Store in Vietnam.
Tim Cook: "With today's expansion, we're proud to offer customers an incredible new way to discover and shop for our amazing products and services, connect with our knowledgable team members, and experience the best of Apple."
IDC reports that Apple delivered 1.75 million units in 2017 and held a 13.1% market share, putting it in fourth position. However, the country's importance to Apple's China+1 manufacturing expansion strategy is growing.
Apple is actively extending its retail footprint in a variety of international markets. The company's first outlets in India were inaugurated in Mumbai and New Delhi last month.
Apple's intentions to move manufacturing out of China make Vietnam a major manufacturing base. South China Morning Post reported in February that Foxconn, a long-time supplier of Apple devices, had leased land in Vietnam for an extended period.
Apple already produces products like AirPods and Apple Watches in Vietnam, and this year the Cupertino-based corporation is rumored to intend to begin producing MacBooks there as well. In addition, multiple other producers are spending millions to open new facilities for increased output.