Chromebooks Plus is a new class of Chromebooks that Google introduced this morning. The laptops have minimal spec requirements, including a full HD screen, a 1080p camera, and more processing power than entry-level computers. They are productivity-focused gadgets. Starting at $399, the first round of Chromebook Plus computers from Acer, Asus, HP, and Lenovo are available.
The business is also integrating Adobe Photoshop and Adobe Express powered by AI onto Chromebook Plus devices (more on that later). Google is likely establishing minimum hardware specifications for this new class of devices so that they can operate AI-powered features and productivity tools without any issues. The complete list of required hardware features is shown below:
CPU: Intel Core i3 12th Gen or above, or AMD Ryzen 3 7000 series or above
RAM: 8GB+
Storage: 128GB+
Webcam: 1080p+ with Temporal Noise Reduction
Display: Full HD IPS or better display
Software features
Some helpful video conferencing capabilities are coming to Chromebook Plus devices. You may instantly mute or unmute the microphone and turn on or off the camera using the system's specific control panel, which will be located at the bottom. You may access AI-powered features like better lighting, noise cancellation, background blur, and live captions by expanding the menu by clicking on it.
To make it possible for you to view your work later without an internet connection, the firm also allows automatic file synchronization for Google Drive.
Additionally, Google Photos will introduce several upgrades, such as portrait blur, HDR, and Magic Eraser, an Android tool that lets users delete things from their photos. Additionally, the software can generate movies based on a collection of images and videos.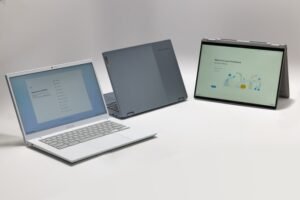 While some of these capabilities could also be compatible with other Chromebooks, Google stated that for the time being, they will only be available on machines in the Plus category.
To offer programs like Photoshop, Adobe Express, and LumaFusion, Google is also collaborating with businesses like Adobe and LumaTouch. The debut of Photoshop on the web with Firefly-powered AI features for paying customers was announced by Adobe last week. Customers who purchase a new Chromebook Plus will receive a complimentary three-month membership to Photoshop and Express.
All new Chromebook Plus machines will include a three-month trial of Nvidia's GeForce NOW Priority tier cloud gaming service, much like the other categories.
Future features enabled by AI.
A few AI-powered features that Google has been progressively integrating into its devices will soon be available on the new Chromebook Plus. The business said it would launch a new writing helper that could function on various platforms, including social networks and YouTube.
Google will also make it possible to produce AI-generated wallpapers in response to a suggestion. A comparable feature for Android was unveiled by the search engine giant in May at its Google IO developer conference.
Google declared earlier this month that Chromebooks will receive ten years of software upgrades depending on the platform's release date. According to Google, older Chromebooks that meet the criteria for Chromebook Plus are now eligible to receive these software upgrades.
Starting at $399, eight devices are being released by Asus, Acer, HP, and Lenovo. These gadgets come in clamshell or detachable two-in-one configurations. The sale begins on October 8. People in Europe and Canada will be able to order Chromebook Plus machines the following day