TechCrunch reports that Spotify is shutting down Heardle, the Wordle-inspired music game it acquired in July. Spotify announced the game's demise on May 5 on Heardle's website.
"Thanks for playing Heardle, but unfortunately we must say goodbye," the statement reads. Heardle will disappear on May 5.
Heardle, inspired by Wordle, is a fun way to test your music knowledge. You have six chances to guess a song's name by listening to lengthier clips.
You can keep listening till you figure out the name. Guessing the music faster improves your score. Heardle provides a Spotify link once you guess or give up.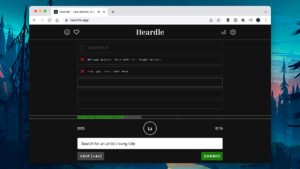 "After careful consideration, we have made the difficult decision to say goodbye to Heardle as we focus our efforts on other features for music discovery," Spotify spokesman Grey Munford told The Verge in an email.
Spotify says you may screenshot your data until May 4 to remember the short-lived game. Spotify purchased Heardle last year, saying the game had millions of players, but now that The New York Times-owned Wordle has faded, possibly fewer players are participating.
Maybe Spotify never included Heardle in its app contributed to its closure. But, on the other hand, Heardle may have survived if it had been mobile-friendly instead of a solitary website.