The Trump-era social media backlash site Parler has been bought by a new firm that aims to shut it down temporarily. Starboard, formerly Olympic Media, purchased Parler on Friday and plans to shut it down to create a redesigned social network temporarily.
The deal's financial parameters remained unknown. However, starboard expects the transaction to be accretive by the second quarter of 2023.
"Parler's large user base and additional strategic assets represent an enormous opportunity for Starboard to continue to build aggressively in our media and publishing business," stated Starboard CEO Ryan Coyne in a press statement. "We look forward to integrating Parler's exceptional audience across all of our existing platforms."
Starboard, founded in 2018, owns conservative American Wire and BizPac Review. Coyne says the Arlington, Virginia-based startup believes Parler can "begin servicing unsupported online communities" with AI and additional capabilities.
Parler and Kanye West, now known as Ye, failed to reach an acquisition deal months prior. The social media stated Parler's owner and Ye "mutually" parted ways without finishing the agreement.
After Twitter and Facebook banned former President Donald Trump, Parler became popular around the January 6 revolt in 2021. Parler, with looser community rules, attracted many of his admirers.
After the revolt, the social network topped the App Store, but Google Play withdrew it on January 8, 2021. Amazon and Apple deleted Parler soon after. After changing its moderation, Parler returned to Apple and Google's app stores.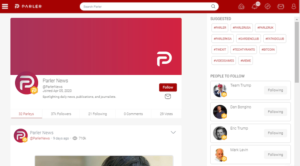 Last September, Parler announced that it had restructured into Parlement Technologies and acquired Dynascale, a cloud company, to expand beyond offering a social media app to providing infrastructure for businesses at risk of being dropped by mainstream providers.
Parler, Gettr, and Truth Social are free-speech alternatives to social networking. Twitter, bought by Elon Musk last year, may compete with Parler. Since the takeover, the social media network has relaxed its regulations and restored Trump, but the former president has yet to tweet.