Twitter momentarily verified a phony Disney account to give free verification to big companies. The gold checkmark signifies a corporate account. It ties in with Blue for Business. Unfortunately, the social network mistakenly gave @DisneyJuniorUK a checkmark.
Verity saw that the account's following count and content didn't match Disney's brand. For example, the report said the suspended account tweeted racial remarks.
After receiving the gold checkmark, the user tweeted, "this isn't actually real right? somebody fucking pinch me".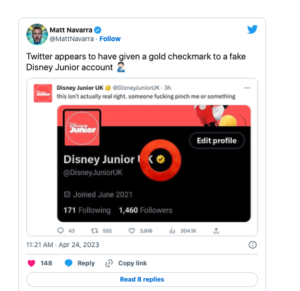 The checkmark increased account followers from 1,400 to over 4,700. As a result, verified organization accounts—even bogus ones—may gain attention.
Twitter verifies organizations for $1,000 non-refundable. Additionally, affiliate accounts cost $50. Twitter gave this rogue account a checkmark without inspection unless Dinsey requested it. Disney has been contacted for comment.
Last week, Twitter eliminated legacy checkmarks, leaving the Pope, Shakira, and Beyonce checkmarks. However, the business reinstated checkmarks for accounts with over 1 million followers over the weekend, even if they didn't pay.
When Elon Musk enabled paid verification last year, imitation led to fake celebrity and brand accounts. Those accounts disseminated falsehoods within minutes.