GoPro has dominated the world of cameras over the past 15 years. And there is a reason for it. Its Hero flagships are so rich and well-polished that they make its competitors look cheap. Although GoPro mostly introduces expensive cameras, it launches budget models from time to time. A GoPro camera that has great buzz surrounding it is the Hero 7 White. Let's see if it has the same performance and camera quality as the other GoPro models.
We will be answering these and many more questions regarding the GoPro camera. The Hero 7 White is present on discount on Cyber Monday and Black Friday sales, so it's an excellent time to consider buying this camera. Despite its entry-level status, it's undoubtedly the right choice if you are thinking of purchasing a tough and waterproof camera.
The company introduced GoPro Hero 7 White in 2018. However, it has been discontinued after that because the company modified its action cam line-up in September of 2019. At its launch, Hero 7 White was the cheapest GoPro camera available and cost less than Hero 7 Black and Hero 7 Silver. If you are interested in cameras from other brands, you can check out the Panasonic LX100 II here.
Although the company has discontinued it from the GoPro line-up, Hero 7 White is still worth considering. It has a beginner-friendly action camera with an excellent design and a waterproof camera.
Design:
People who have experience with the GoPro cameras will instantly know that it isn't a high-end model. GoPro Hero7 Black has a front display that isn't present here. The display indicates that the camera is recording and also tells the battery percentage. Instead, the Hero 7 White features a front red LED and the standard GoPro bleeps. Thus, it is made for everyday people.
The water-resistance here is 10-ATM, which is strong enough to take underwater shots. This added water-resistance is one of the main reasons that most people are attracted to GoPro 7 White. However, in case the camera dysfunctions due to water damage, GoPro doesn't cover it in warranty.
Although you can't remove and swap the battery at once, you can charge it using an external battery through its USB-C port. This comes handy if you don't have excellent access to the mains.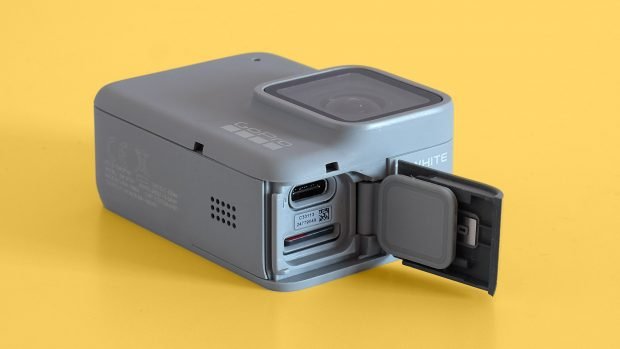 Features:
The GoPro Hero 7 White has software, which is just a simplified version of the Hero 7 Black. You can use the Mode button to see the menu that switches between video, photo, and time-lapse modes. Alternatively, you can swipe the screen.
Even though there is a simplified software version, it's still more versatile than other budget cameras present on Amazon. Compared to Hero Black 7, it lacks TimeWarp lapses, HyperSmooth video stabilization, GPS, and live-streaming. However, it is still suitable for beginners as it has a good slow-motion video and electronic stabilization features.
There are two main ways to operate the GoPro Hero 7 White. You can either use the buttons or give voice commands, like in Alexa. However, to use the voice commands, the camera needs to be turned on.
You know that the camera is useful if the camera works fast. However, the interface here is a bit slow, particularly when compared with the phones and some high-end cameras.
Video Skills:
The main feature that Hero 7 White is missing is the 4K video quality. Well, if you aren't big on social media and YouTube, it won't be a problem. It's probably better to have a 1080p video than an inferior 4K quality, which is the norm with budget cameras having 4K video.
However, a feature that it lacks is the change in the field of view. You can change the field of view in other GoPro cameras. However, with Hero 7 White, you can only record with the trademark fisheye look.
Verdict:
You can call the GoPro Hero 7 White a stripped-down version of other GoPro models. However, it is one of the best budget cameras present out there in the market. It doesn't have a 4K video, but that won't be a problem if you are a beginner. However, if you are a YouTuber or a social media influencer, you might want to turn to high-end GoPro models.