Garmin watches are quite versatile. The Fenix is the perfect watch for multi-sports, whereas Vivomove and Vivoactive are also quite elegant. However, when it comes to running, you won't find a better watch than the Garmin Forerunner 945.
The Forerunner 945 is quite powerful with every kind of bell and whistle for the runners. However, you can also switch to the watch's previous versions, which provide the same features, like Garmin Forerunner 645 or Garmin Forerunner 935. However, the bigger question is that is the Garmin Forerunner 945 worth it? Let's find out.
Price:
Garmin introduced the forerunner 945 in April 2019 for just $599.99. This is too much for a sports watch. However, this high price is accompanied by amazing features. Moreover, you can also buy the watch at a reduced price from specific retailers. It was available in the U.S. recently, just for $490. This is $100 less than the Garmin Fenix 6.
Design:
Garmin has explored fashion-forward sports watches, but the Garmin Forerunner 945 has a rugged design. It is currently available, only in two colors, which are black with a blue strap, and black with a black strap. It only comes in one case size.
The Forerunner 945 isn't as big as the Fenix 6X, but it is still quite large. There are five buttons on the screen, three of which are on the left, and two are on the right side. They are all quite good and give a satisfying click. Garmin has ditched the touchscreen on this one.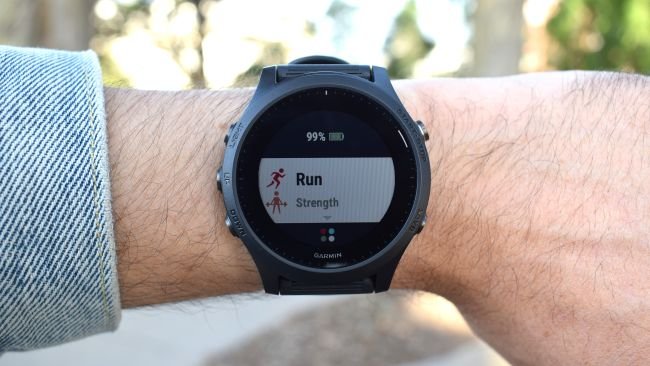 Garmin utilizes a transflective display technology for its 1.2-inch screen, which makes it quite visible in sunlight. It also features a backlight that you can turn on by turning your wrist.
The advantage of having the rugged design is that it becomes capable of withstanding things you throw at it.
Running:
The Garmin Forerunner 945 is specially designed for runners. Most of the features here are those you wouldn't have thought of. This makes it one of the most feature-packed running watches on the market.
There is a lot of customization on the 945, including making interval sessions around distance or time. You can also make workouts in the Garmin connect app and send them to your watch.
The main question that arises here is that whether all the tracking of the Garmin Forerunner 945 is accurate? We can say with surety that the two biggest metrics, GPS, and heart rate, are tracked with precision. The forerunner 945 uses Garmin's latest Elevate v3 heart rate tech, which is an improvement on the previous optical tech.
On a steady run, the watch keeps up with the EKG chest strap. The polar monitor shows things with impressive accuracy. However, the live readout lags at specific points, which can create problems during cardiac training.
Music features:
Garmin's sports watches are becoming more like smartwatches. You will also get smart notifications from the Forerunner 945.
Regarding music, you can either upload your music files or make a supported third-party service. If you have a Spotify subscription, you can download offline playlists to watch. In this way, you won't require to use a phone during a workout. You can also use Bluetooth headphones along with the watch.
With 945, you will have access to the whole Garmin Connect IQ store, where you can look for widgets, apps, and custom clock faces.
Battery:
Good battery life is a prominent feature of Garmin watches. It offers up to 36 hours of use in its GPS mode. It's a lot, but it shrinks down to 10 hours if you are listening to music too. The exciting thing is that, after turning off features like Pulse Ox, you can extend the battery life up to a week.
If you are interested in watches with long battery life, you can check out the Matrix Powerwatch X review here.
Verdict:
Garmin Forerunner 945 has many plus points. It has a good battery life and gives accurate readings for runners. However, it is a bit expensive and has an unattractive design. Having said that, if you are a severe runner and running is your key focus, you should buy this watch.